Home » Product Center » Aluminum Window » Aluminum T&T Window » SERIES HA52
SERIES HA52
GRAND SHINE's HA52 Thermal Break Tilt & Turn Aluminum Windows offer European window styling which is the best in the world. Designed with performance and security in mind, our HA52 Thermal Break Tilt & Turn window system outperforms all comers on every count.
Available as a single Tilt & Turn Window or a true mullion less French window, which allows both panes to be opened or a single pane to be tilted. Grand Shine can also build this Tilt & Turn window as a tilt-only (or hopper) for applications where the aluminum window's width is greater than its height.
GRAND SHINE's Tilt & Turn Windows are now available in custom exterior colors and come standard with the ultra high performance Low-E double glass which greatly enhances the energy efficiency.

Operation
The Tilt & Turn sashes open inwards in two actions; the first being a casement action and the second a tilting action from the top of that opening sash. As well as offering maximum airflow when opened inwards in the casement action, glass can be cleaned from inside in comfort and with safety – a bonus for 2 storey homes or apartments in multi-storey complexes. The tilting action provides a safe and secure opening whilst still achieving a significant airflow. The effect from the airflow being higher up, allows for better circulation of air within the room. Being inward opening, the air flows in from every which way, whereas outward opening casement and awning windows displace the air and create more of a shield for the breeze to work around and find its way in.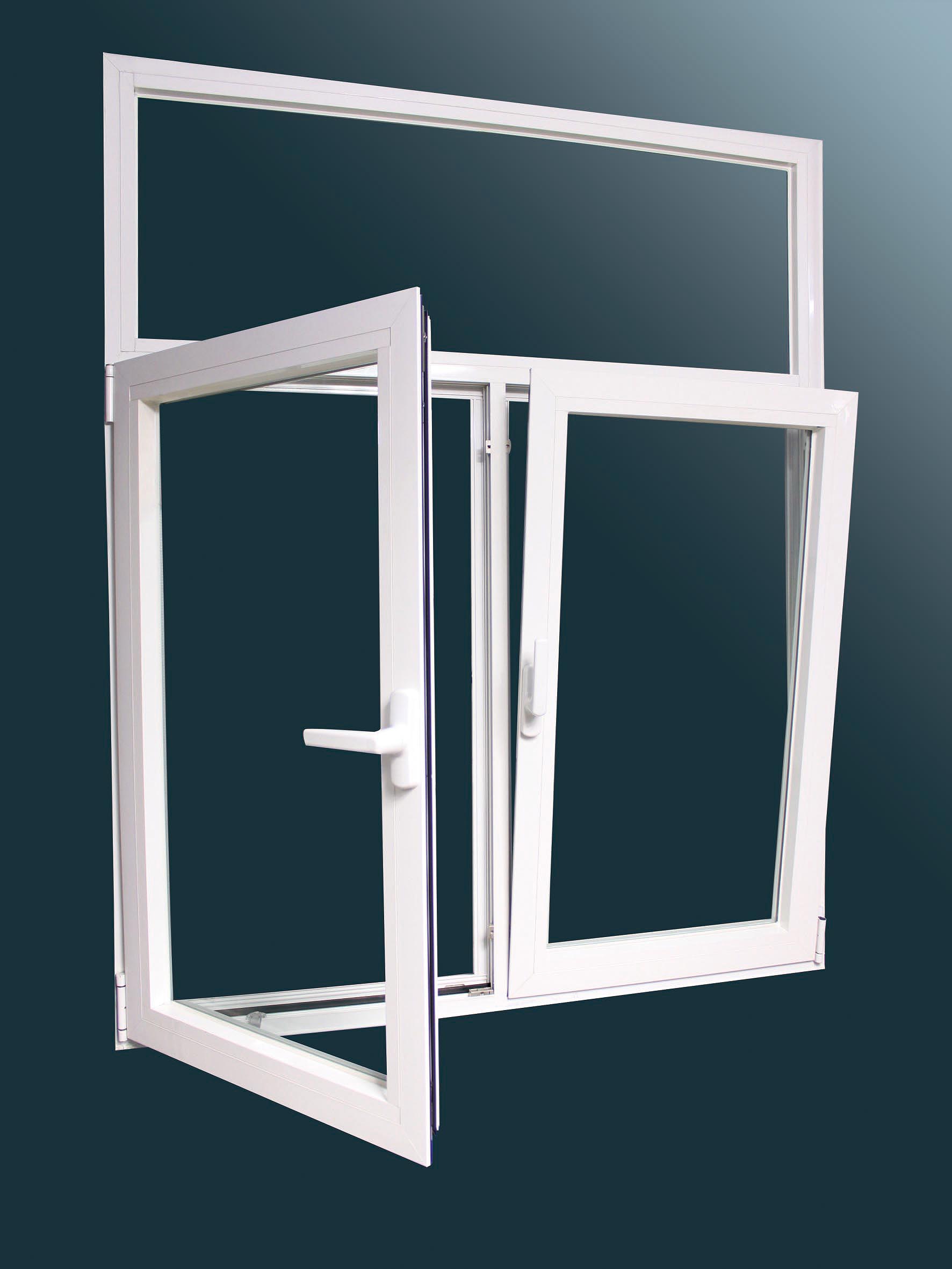 Frame and Sash

The most common solution to the heat conduction problem of aluminum frames is to provide a "thermal break" by splitting the aluminum frame components into interior and exterior pieces and use a less conductive material to join them. Current technology with standard thermal breaks has decreased aluminum frame U-factors (heat loss rate) from roughly 2.0 to about 1.0 Btu/hr-sq. ft-°F. In hot climates, where solar gain is often more important than conductive heat transfer, improving the insulating value of the frame can be much less important than using a higher-performance glazing system. Our thermal break aluminum Tilt & Turn window system uses PA66 insulation strip to separate inside and outside aluminum profile. In the hot summer or cold winter, the heat can hardly go through the aluminum profile due to the insulation strip. When using double glazing also, K value<3.5W/m².K. The difference of temperature between the inside and outside of the Tilt & Turn window can reach 10~15 ℃. This thermal bridge system can greatly enhance the energy efficiency of the aluminum Tilt & Turn window. You can also choose different color for inside and outside of the Tilt & Turn window. Like white in the inside, the same color as the wall in the outside. It makes your life more colourful.
The aluminum extrusions and hardware are so strong that when 2.0mm thickness extrusion and appropriate glazing is used, Tilt & Turn windows can reach performance levels comparable to a 172 mph wind speed for uniform load deflection and a 210 mph wind speed for uniform load structural tests.
Hardware

The hardware, imported from Germany, has a self-healing corrosion resistant finish that gives the impression of stainless steel. Local hardware is available for lower cost project. Twin weather seals and multi point locks provide unsurpassed thermal, acoustic and security performance.
GRAND SHINE supplies these Tilt & Turn windows standard with steel mushroom locks/keepers and hinge side locks, at four or more points around the window. (Larger windows receive additional locking points.) This results in a window that exceeds European burglar resistance standards, which are generally much tougher than the US tests.
Surface Treatments

The aluminum profile of the Tilt & Turn window can be anodized or powder coated. The finish of the aluminum is a hard wearing and highly durable surface coating and has been designed to withstand the climate, including sea spray. Over 80 colors for sliding window are available.
FEATURES:
Accepts glass thickness from 5mm-12mm single glazed and 16mm-24mm double glazed. Argon & Low-E ~ to enhance the thermal performance of the window.
The joint of sliding window for frame and sash is 45°. Joint with the bracket angle to reinforce the strength and reduce the tolerance
Mesh options for Tilt & Turn window.
Double Weatherstripping
Range of heavy duty mullion options for high wind locations
Range of self draining and heavy duty sill options
Choice of locking options
52mm aluminum frame size
Available in various powder coat and anodized finishes
Special cover for the weep hole to prevent wind, water and dust to go through